The Book Club:
"At the end of May I was feeling sort of "meh" about the Goodreads book clubs I'm part of. No offense meant to them at all! I like them. But they're just so BIG that the books I'm particularly interested in don't often (read: ever?) get picked and there doesn't feel like there's enough incentive to take part sometimes. I wanted something that was smaller so, even if I'm not super jazzed about every single book, I feel motivated to read each one because I knew the other member(s) of the book club are reading too and because of the discussion that will ensue.

SO, of course, I voice messaged Claire about it and we decided on a book within the hour!

How it works is that one of us will pick the book one month and the other will pick the book for the next month."
This month was Claire's choice: In Real Life by Cory Doctorow (illustrated by Jen Wang)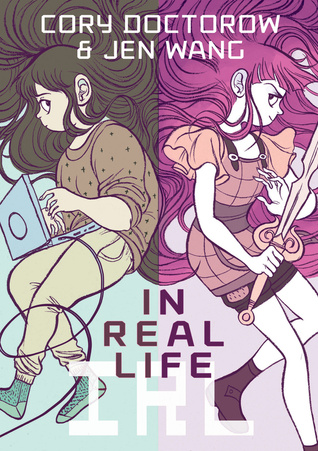 Book: In Real Life by Cory Doctorow, Jen Wang
Publisher: First Second, 2014
Genre: Science Fiction, YA, Graphic Novel
Summary:Anda loves Coarsegold Online, the massively-multiplayer role-playing game where she spends most of her free time. It's a place where she can be a leader, a fighter, a hero. It's a place where she can meet people from all over the world, and make friends.
But things become a lot more complicated when Anda befriends a gold farmer–a poor Chinese kid whose avatar in the game illegally collects valuable objects and then sells them to players from developed countries with money to burn. This behavior is strictly against the rules in Coarsegold, but Anda soon comes to realize that questions of right and wrong are a lot less straightforward when a real person's real livelihood is at stake. From acclaimed teen author (Little Brother, For the Win) and Boing Boing editor Cory Doctorow and Koko Be Good creator Jen Wang, In Real Life is a perceptive and high-stakes look at adolescence, gaming, poverty, and culture clash.
More Information: GoodReads
Nikki's Thoughts & Rating:
In Real Life turned out not to be quite what I thought it was based on the Tor.com excerpt I'd read some time last year. The excerpt, though fun, seemed as though it would be just a slice-of-life/coming-of-age/realising-the-often-duplicitous-nature-of-the-internet kind of thing and did not allude to the deeper theme of economics.
There was a kind of nostalgia in the whole feel of the story for me even though I was never truly involved in any MMORPGs (I was very interested in the Ragnorok world and characters, but I never played it). Still, being involved in communities like DeviantArt and Neopets reveal yield experiences.
I have mixed feelings about how sweet and tidy the story is though considering some of the bigger issues it's dealing with. On the one hand, I reeeally like it for that. It's a fun, light ride. But I also have twisty feelings about the idea that you can ignorantly meddle in something so much bigger than you without having any fuller context and things will somehow work themselves out towards a happy ending because you have good intentions. Things don't always go that way. In fact, I'd say they rarely do. At the same time I think, why not let this end well with an impossible peaceful revolution that works because the good guys always win?
I suppose my lesson to the young reader (were I writing this comic) would have been that sometimes you don't win. It's important to acknowledge that systems of oppression are not so easily overturned because you and a bunch of your friends/colleagues go on strike and give the boss an ultimatum. But the idealistic part of me wants people to believe and know that that is a fundamental right that the public can and should exercise for the good of everyone and (usually after much suffering) things start to happen.
Anyway, I did really enjoy this one. It's just my conflicting feelings that have me constantly flitting between a high four stars and a full five, but I like what's going on here.
Rating: ★★★★★
Nikki's favourite line:
"Most of the people you see going to work today are LARPing (live-action role playing) an incredibly boring RPG (role-playing game) called "professionalism" that requires them to alter their vocabulary, posture, eating habits, facial expressions–every detail all the way down to what they allow themselves to find funny."
Claire's Thoughts & Rating:
We're not keeping with a graphic novel trend on purpose, it's just happening that way accidentally but by-golly, I sure do love it! Where do I start about this?
It's well written: I enjoy graphic novels as a genre on the whole but I do find that sometimes it is difficult to find a seamlessly written graphic novel. Skim was a goodie, and In Real Life is one of this prestigious league. The dialogue and back story flowed so well, next thing I knew, 45 minutes later, it was done! I was so very sad. I do wish it could have gone on for some time more, maybe a sequel?
Love the Characters: I really enjoyed how Doctorow switches from the digital to the physical so seamlessly, and the characterization continues with it. There is an argument to be made that people change who they are on the internet, and that is true for some, but for others they might become their better selves and we are left to question and wonder about what is real about who we are, and what isn't. (Hence my favourite quote below).
Love the art!: Oh man, I love the art in this! It got me so pumped and ready to draw.
I will say this about it, it was all a bit neat. Like Nikki mentions above, despite the drama and real life problems facing these characters, it all ends up happy with them skipping off into the sunset. Life is hardly like that.
That also being said, it is a great way to introduce the notion of privilege and power to readers, while exploring an economy that many of us know so well and take for granted.
Rating: ★★★★★
Claire's favourite line:
"– I understand the world can be cruel place and there are people out there counting on naive kids like you to take advantage of. Don't just think because it's video games people can't get hurt."
Have you read this book yet?
If you have, what did you think? If you haven't, do you want to?
April's Book Club choice is Nikki's and she chose…Kitchen by Banana Yoshimoto!
Feel free to read along with us! 🙂