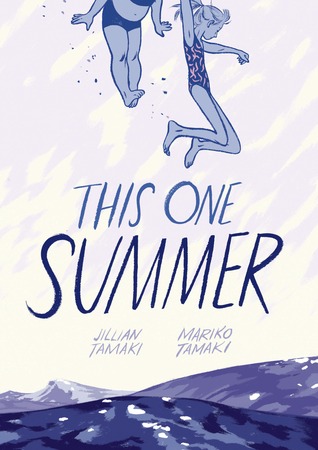 Book: This One Summer by Mariko and Jillian Tamaki
Publisher: First Second, 2014
Genre: YA, Graphic Novel
Rating:

Source + Date Read: Library, January 2016
Recommend: Fans of well drawn and well scripted graphic novels.
Book Pro's: Great art and dialogue.
Book Con's: I really can't think of any.
Summary:
Every summer, Rose goes with her mom and dad to a lake house in Awago Beach. It's their getaway, their refuge. Rosie's friend Windy is always there, too, like the little sister she never had. But this summer is different. Rose's mom and dad won't stop fighting, and when Rose and Windy seek a distraction from the drama, they find themselves with a whole new set of problems. It's a summer of secrets and sorrow and growing up, and it's a good thing Rose and Windy have each other. In This One Summer two stellar creators redefine the teen graphic novel. Cousins Mariko and Jillian Tamaki, the team behind Skim, have collaborated on this gorgeous, heartbreaking, and ultimately hopeful story about a girl on the cusp of her teen age—a story of renewal and revelation.
More Information: GoodReads
Ive been a Jillian Tamaki fan since Skim, which Nikki got for me, well sort of- she nominated that I get a free book with this initiative that was going on Twitter and then I did actually get it. I don't believe I've ever done a review of Skim but I just love Tamaki's art. I also managed to see (but not meet) her as she signed a few things for Nikki once in London, it was amazing.
I preferred Skim's plot but this book is a true coming of age story set in a summer cabin house over a period of 2 weeks. There are the usual teenage high-jinks, there is tension, shouting at a moody Mum and questions of one's place in the world. What makes One Last Summer delightful is that it actually feels like the last summer that the protagonists will have as happy, young women with true innocence, you really got the feel that this is in fact, their last summer as who they are now. I'm normally not a big fan of coming of age stories, and I normally can't stand novels with teenagers in them but this is a recommended read for those that want to start off reading graphic novels or love a good coming of age story.
Something else that I've just remembered about this story, you get the parent's perspective. In a lot of coming of age stories you just see teenage angst and injustice but here pain is grounded in every day life everywhere, parents and child alike and we come to understand how our moods as individuals can affect change in others.
The dialogue in this is amazing even if it is a bit harsh, there were a few times when I read this when I thought, "wow" if someone had said some of that stuff to me, I'd be in tears! But that's what's beautiful, nothing is sugar-coated or dumbed down. Then there is the art, it is truly beautiful. Tamaki has a style that I appreciate- she seems to do so much and put so much into just a few lines.
Recommend: For those that won't a good introduction into the graphic novel genre.
Book read before this: The Just Bento Cookbook: Everyday Lunches to Go
by Makiko Itoh
Book read after this: Nimona by Noelle Stevenson