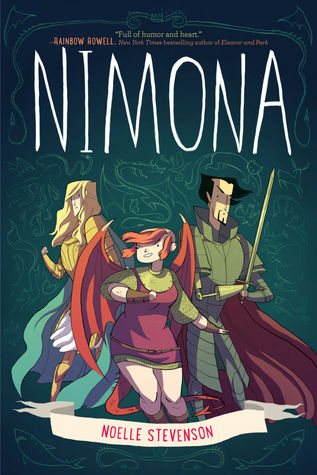 Book: Nimonana by Noelle Stevenson
Publisher: HarperCollins, 2015
Genre: YA, Graphic Novel
Rating:

Source + Date Read: Library, January 2016
Recommend: For those that want some fantasy with their YA and graphic novels.
Book Pro's: Amazing characterization!
Book Con's: Eh… I had to grow to like the art but I came to appreciate it quite a bit so maybe this isn't a con but maybe a lesser pro?
Summary:
Nemeses! Dragons! Science! Symbolism! All these and more await in this brilliantly subversive, sharply irreverent epic from Noelle Stevenson. Featuring an exclusive epilogue not seen in the web comic, along with bonus conceptual sketches and revised pages throughout, this gorgeous full-color graphic novel is perfect for the legions of fans of the web comic and is sure to win Noelle many new ones. Nimona is an impulsive young shapeshifter with a knack for villainy. Lord Ballister Blackheart is a villain with a vendetta. As sidekick and supervillain, Nimona and Lord Blackheart are about to wreak some serious havoc. Their mission: prove to the kingdom that Sir Ambrosius Goldenloin and his buddies at the Institution of Law Enforcement and Heroics aren't the heroes everyone thinks they are. But as small acts of mischief escalate into a vicious battle, Lord Blackheart realizes that Nimona's powers are as murky and mysterious as her past. And her unpredictable wild side might be more dangerous than he is willing to admit.
More Information: GoodReads
I picked this up on a whim from the local library when I was looking for Nikki's book club pick for February. I'd heard great things about it and thought, "What the heck?" I was surprised initially by how much I liked it! All in all Nimona is a great graphic novel and I was left wanting more. If there was a second volume I'd be really happy!
The biggest strength in this piece has to be Stevenson's characterization. All of her characters were so deep and engaging- I loved every single one. I appreciated her play on light and darkness, the bad guys had some good in them and the good guys had some blackness, some darkness in them. I greatly appreciated that beneath every veneer there were a few cracks.
Plus there twists and turns galore! You learned to not assume that the plot was going to go down Route A, and all of a sudden it went down Routes B, C, D and then you somehow ended up at Z then H. It was a twisty and turny thing that was really fun.
My biggest qualm was the artwork. I tend to like art to be a bit more realistic (but not exaggerated in a comic book style) but I came to really, really appreciate Stevenson's style. I especially came to like the way she shaded, I don't know why but I came to really appreciate how she did highlight and shadows. It's odd huh?
Book read before this: This One Summer
by Mariko Tamaki and Jillian Tamaki
Book read after this: Currently reading the Fellowship of the Ring