The Book Club:
"At the end of May I was feeling sort of "meh" about the Goodreads book clubs I'm part of. No offence meant to them at all! I like them. But they're just so BIG that the books I'm particularly interested in don't often (read: ever?) get picked and there doesn't feel like there's enough incentive to take part sometimes. I wanted something that was smaller so, even if I'm not super jazzed about every single book, I feel motivated to read each one because I knew the other member(s) of the book club are reading too and because of the discussion that will ensue.

SO, of course, I voice messaged Claire about it and we decided on a book within the hour!

How it works is that one of us will pick the book one month and the other will pick the book for the next month."
This month was Claire's choice: Lagoon by Nnedi Okorafor
Book: Lagoon by Nnedi Okorafor
Publisher: Hodder & Stoughton, 2014
Genre: Science Fiction
Summary:When a massive object crashes into the ocean off the coast of Lagos, Nigeria's most populous and legendary city, three people wandering along Bar Beach (Adaora, the marine biologist- Anthony, the rapper famous throughout Africa- Agu, the troubled soldier) find themselves running a race against time to save the country they love and the world itself… from itself. Lagoon expertly juggles multiple points of view and crisscrossing narratives with prose that is at once propulsive and poetic, combining everything from superhero comics to Nigerian mythology to tie together a story about a city consuming itself.
More Information: GoodReads
Nikki's Thoughts & Rating:
Apparently this book was initially Okorafor's (annoyed) response to District 9. I wish she had gone into more detail about that annoyance because I thought District 9 was a really great film and I don't think Lagoon lives up to that standard. I inferred that her issue with District 9 was its failure to feature black people in a film set in Africa which I think is completely valid criticism. It's a shame. Charlto Copley is a brilliant actor, but there was a missed opportunity for diversity there. Anyway, I digress…
So I'm glad I didn't know that until the end of the book because the bar would have been set so high as to have been impossible to even see. I was unsure about the first chapter, but found its 'reveal' interesting. And the three chapters from animal perspectives were actually my favourite parts of the book and the parts that I felt were the most successful part of this book. If I could just read a short story collection of those where each of them was just a little bit longer, I would have been happy. To elaborate on them a little bit, one of the stories is from a bat's perspective and the bat becomes 'enlightened' in a moment and is opened to a whole new world, just before her life is extinguished in an equally quick moment. The perpetrators of the fatal act are unwitting characters from our main story.
I also liked the inclusion of a cross-dressing character whose dilemma is straddling the two different worlds of his homophobic friends who don't know that he likes to wear women's clothing and his LGBT friends who are very flamboyant and who have a much more established feelings about their identities and activism. It was a shame, I thought, that this storyline seemed to amount to nothing and I felt it, too, could have been its own story with nothing to do with SFF at all.
Those little windows into unfinished stories were glimmers of real enjoyment and were the most interesting parts of the story to me. Sadly, the criticism I have far outweighed these lovely vignettes. I don't think there was any part of the sci-fi elements that really worked for me here and the overall story just seemed to run away with itself. It certainly didn't feel like a controlled unravelling of civilisation so much as sudden lose of control on what was going on. The writing felt very different—less solid—to me than what I'd read in her previous book, Akata Witch which was a really fun, middle-grade fantasy story (and one that I would recommend).
At times I found myself laughing at how silly it all was. And at other times, I found myself a bit unsure about what seemed like slut-shaming language. The characters were stiff and two-dimensional. There were the "good" ones and "bad" ones, there was the idiot, abusive husband and there were ones who could have been more complex but then weren't. And they just all felt pretty simple to me even after I heard their backstories. Actually, maybe especially after I heard their backstories. I think the most interesting character was the cross-dressing boy and his relationship to his best friend since childhood could have been interesting had it been developed. The messages of environmentalism (which I care about) and accepting others who are different (which I care about) and the anti-religious sentiments (which I get) were really beating a dead horse…over and over and over. Overall, I'd describe the writing as heavy-handed and clunky.
I still believe Nnedi Okorafor is an author I'd like to keep an eye on because it still seems unusual to see African authors in the SFF game and I feel like there are so many cool things that could be done in that arena. I like her enthusiasm and little ideas that come up in her work. I'm still glad I read it, but this book did not hit the mark.
Rating: ★★☆☆☆
Nikki's favourite line:
"At this moment, she is the only bat on earth seeing the stars in the sky. But she doesn't know what those are either. Her echolocation will never reach that far."
Claire's Thoughts & Rating:
I will preface this that Nikki is very annoyed with me. I've been slacking but to my defense, I had a major client project due today so I didn't stand up to my blogging duties.
I will say this about Lagoon, I was a bit disappointed to be honest. I wanted to like this book from the start and I did with initial animal perspective (also my favorite parts of the book) but ultimately I was left feeling a bit underwhelmed. Believe me, it's a good book but I think it just isn't my thing, mostly because I'm not a big science fiction fan and less so a fan of reading about aliens. But this is my fault and part of my preferences and issues and does not reflect on the quality of the book itself.
I will say this, I loved that it was set in Nigeria and the cultural perspective was absolutely fascinating. My favorite quote for this book is spot on, because I also feel that is applicable to the Caribbean. It was so nuanced and the perspectives were fascinating! From the religious fear to personal upheaval, no part was untouched and really exams the different parts of the culture I think. I just wish it didn't have to be with aliens, meh. I actually would recommend this book, especially for Sci-Fi fans that want a non-western perspective on the genre (one of my biggest gripes!) and I'm actually really motivated to read Akata Witch by the same author because it's an African fantasy novel which is more my speed I believe. So, go, read this book! And let me know how you find it.
I think I'm just not able to choose good books for people because have we all not noticed that my choices are the meh choices?
Rating: ★★☆☆☆
Claire's favourite line:
"Adaora was beginning to see why Ayodele's people had chosen the city of Lagos. If they'd landed in New York, Tokyo or London, the governments of these places would have quickly swooped to hide, isolate and study the aliens. Here in Lagos, there was no such order."

This month we have Anna from One More joining us in the book club! 
Anna's Thoughts & Rating:
I… really wanted to like this book. A lot. The basic premise – first contact in Lagos by aliens with transformative powers – is a corker, and we see the immediate impact of their influence from the unexpected and delightful perspective of the local sea life. It's intriguing and threatening (turns out fish hate us. Who would've guessed?) – and it's wide open for interesting developments: anything is possible.
Our principal characters are great at first glance. The humans: Adaora, the marine biologist whose marriage is foundering since her husband became born-again and decided she was a witch; Agu, badly beaten for trying to stop fellow soldiers committing rape; and Anthony, the rapper whose empathy seems at odds with his manic celebrity.
And alien ambassador Ayodele is fabulous. Alongside the Bone Collector (a sentient, man-eating strip of tarmac), she's probably my favourite person in the book. She can change shape, read minds and dispense wisdom like a better-spoken Yoda. She's confrontational but cool-headed, so when she flips out over how badly humanity reacts to her presence and turns herself into a small animal to sulk for a while, I didn't really know what to make of it. That said, she's towers over the second half of the novel – I loved her story arc, and the lengths to which she was willing to go to achieve her aims.
Unfortunately, my love affair stopped there. As with Binti, I struggled with the prose, finding it sparse rather than elegant, and painfully explicit in spelling out what people were thinking and doing. I wondered at one point whether it would work better read aloud (I think so, but that's not how I read), or whether it would work better for a younger audience (possibly). Regardless, I found it awkward and it kept me at arm's length.
Unlike Binti, the story is much less focused, and ended up feeling like an unholy mess. The POV bounced (briefly) to a number of other characters around the city. This served to introduce new perspectives and themes – first contact galvanises a local LGBT group to come out of the closet; some youths plot to kidnap Ayodele in search of a quick buck; a sex worker has a religious epiphany; and, and, and (and that's part of the problem. So many threads).
While the subplots had merit (or could have done – I'll come back to this), I seem to be ranting a lot recently about how much this sort of POV-swapping annoys me, and it's no exception here. I love that the book presented a cross-section of different (and perhaps unexpected) characters, but I'd have preferred to see it through fewer eyes – not least because most characters ending up feeling like one-dimensional archetypes. It wasn't sufficient for a character to be unpleasant – they're over the top. No room for nuance here.
Too many of these subplots evaporated, despite the characters being tightly interconnected. For example: Agu is beaten for trying to prevent a rape; one of the would-be kidnappers heads off with a machete to do Agu harm after he's (mistakenly) recognised as 'one of the soldiers who raped his cousin'… after which the kidnapper is never seen again. It's almost as though the story is overwhelmed by all the details it takes on; having thrown everything in the kitchen sink, the cutlery gets lost in the suds. While the ending theoretically wraps it all up (in a non-specific 'it's all fixed now' kind of way), there's no explicit closure for most of them. This might be more realistic, but it doesn't help the narrative. Worse, the constant distractions make the pace of the main thread uneven.
On another front, an out-of-the-blue attack of insta-love buzzed another of my least favourite tropes. Whilst one of the characters involved did show some immediate horror and regret – what am I doing? – by the end of the novel, their relationship seems to be a given. I tried hard to swallow this as one more way that the aliens were changing everything and everyone they came in contact with, but… I really hate this trope. I don't like making excuses for it.
Ayodele aside, I also didn't love the climax – the arc around superpowers didn't really add anything beyond a convenient 'get us out of dodge' card in the face of rampaging sea monsters; and the President has to be the least Presidential fictional President since Gaius Baltar. Only with fewer interesting character defects.
So in the end, the book gets a measly 2 stars from me. It was nearly a DNF – I soldiered through because the ideas were intriguing and there were moments of grace.
For those who choose to read it: there's a Pidgin glossary at the end, which you may find useful. I didn't find it until I'd finished the novel, which made certain chapters practically incomprehensible.
Show Anna some love and visit One More!
Anna's favourite line:
"She had experienced so much humanity in so little time."

Have you read this book yet?
If you have, what did you think? If you haven't, do you want to?
February's Book Club choice is Nikki's and she chose…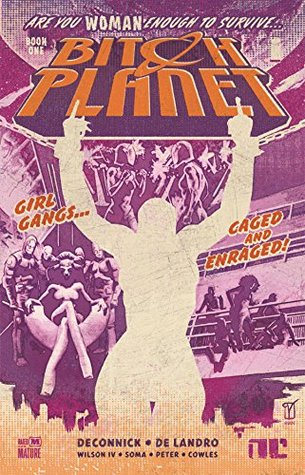 Feel free to read along with us! 🙂