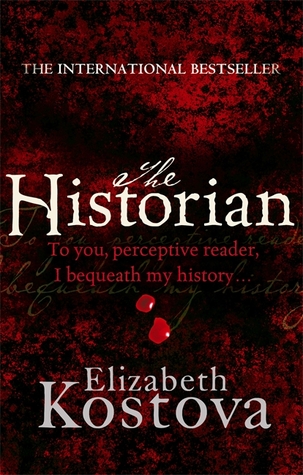 Book: The Historian by Elizabeth Kostova
Publisher: Time Warner Books 2005
Genre: Thriller, Historical Fiction, Literature
Rating:

Source + Date Read: Personal copy + Summer 2005 & September 2015
Recommend: For those that would like a rich take on the Dracula myth.
Book Pro's: Exciting and thrilling!
Book Con's: –
Summary: To you, perceptive reader, I bequeath my history… Late one night, exploring her father's library, a young woman finds an ancient book and a cache of yellowing letters addressed ominously to 'My dear and unfortunate successor'. Her discovery plunges her into a world she never dreamed of – a labyrinth where the secrets of her father's past and her mother's mysterious fate connect to an evil hidden in the depths of history.
More Information: GoodReads
I first encountered The Historian as a teenager, 15 years old to be exact (oh my goodness, that's over 10 years ago), when my father gave this to me after one of his business trips in Florida. He'd been told by the bookseller at the local store that was a great thriller read, with a healthy dose of fantasy and folklore injected in it. I'm forever glad he did get me this book because it did change my course of reading for sometime and forever influence and stir a passion in this genre. Though I don't know how completely appropriate it is for a 15 year old!
In order to write this review I decided to reread the book in September but via ebook format and though it was immensely enjoyable, I missed the weight and thickness of its paperback twin back in a few boxes in The Bahamas. When I go back home I plan to liberate it and bring it back to the UK with me for my future library (which is looking massive).
The Historian is a champion book, a huge tome noting one particular family's obsession with the Dracula myth and how this has forever changed and influenced them. There is a tendency to view Dracula books as cheesy fantasy novels but Kostova writes with such beauty and rich detail that it's hard to classify this as anything but a true piece of literature (in my opinion). Its just so engrossing and well written. As a teen it had a stark impact on me because it was one of the first books that I'd read that included academics in its mystery and I loved that. I loved the detail with which each character brought to history, their dedication and the energy that they brought to their search. I wanted to be like that and as I reread it, I saw that I still want to be that. I want to be able to sit down all day and not move, so engrossed am I in my topic (I am not that type of academic, unfortunately only able to concentrate for 20 minute chunks or I get all twitchy and child like).
I know that the book has been criticised for it's lack of tonal variety, with the daughter, father, Rossi or even Dracula sounding pretty the same or speaking in a very similar fashion. I don't find this irksome, I find it part of the writers style (and I noticed this as well in her sophomore novel, The Swan Thieves) and I enjoyed it. Another aspect that adds strength to the book is the sheer amount of research Kostova must have done to richly portray the many countries that appear in the book. That had to take a great deal of first hand or second hand research. In it, we go to Turkey, England, the States, Hungary and Romania, all traversing a few decades between the 50s and 70s.
Recommend: If you don't mind reading fat books, then I'd highly recommend The Historian.
Book read before this: Harry Potter and the Deathly Hallows 
(Harry Potter, #
7
) by J. K. Rowling
Book read after this: Codex by Lev Grossman