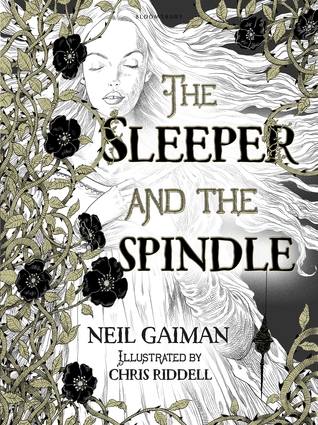 Book: The Sleeper and the Spindle by Neil Gaiman & Illustrated by Chris Riddell
Publisher: Bloomsbury, 2014
Genre: Graphic Novel (?), picture book (?), Fantasy
Rating:

Source + Date Read: My birthday present from my father! + Finished August 2015
Recommend: For fairy tale lovers with a twist.
Book Pro's: Such amazing art and great prose.
Book Con's: None. None.
Summary: A thrillingly reimagined fairy tale from the truly magical combination of author Neil Gaiman and illustrator Chris Riddell – weaving together a sort-of Snow White and an almost Sleeping Beauty with a thread of dark magic, which will hold readers spellbound from start to finish. On the eve of her wedding, a young queen sets out to rescue a princess from an enchantment. She casts aside her fine wedding clothes, takes her chain mail and her sword and follows her brave dwarf retainers into the tunnels under the mountain towards the sleeping kingdom. This queen will decide her own future – and the princess who needs rescuing is not quite what she seems. Twisting together the familiar and the new, this perfectly delicious, captivating and darkly funny tale shows its creators at the peak of their talents.

More Information: GoodReads
OK, so I have a proper confession: This is my first Neil Gaiman read, my first ever! And I must say, I'm glad that I started with this one as it was such a fantastic and beautiful read.
I've heard about this from a few other bloggers that gave it good reviews and I pretty much decided to purchase it for my Birthday. I saw it during YALC and had a chance to flip through it quickly and I thought it was just so beautiful (seriously, it's gorgeous) and resolved to hint to my family that it would make a good birthday present. And the book gods heard me! Because I got it!
OK, so I'd recommend this book for any fairy tale fan. Gaiman writes in such a luscious and descriptive way, that even without the gorgeous illustrations, you can picture the prose's progression. I was also quite impressed with the illustrations in general, I'm a bit picky here nad will forgo a good graphic novel if I don't find the art appealing. What I like is that while intricate nad immensely detailed, the illustrations aren't trying to be perfect. It's also quite dark and every roll and wrinkle and bloodied thorn is drawn to immense realness. It's real without being real, does that make any sense? Riddell isn't going for hyperrealism but a twisted, almost Burton-esque illustration style with elongated figures and twisted features.
Plot-wise, I was following it till I got to the end when I was hit by an immense twist. Wow, it totally caught me off guard! It follows through and makes sense and I must say, I am immensely impressed with the protagonist: she is a mighty Queen that any reader should aspire to (she takes no BS and commands full control over her realm and life).
All in all, I'm a big fan of this book and would recommend it to any Gaiman lover or fairy tale fan.
Further Reading & Reviews: