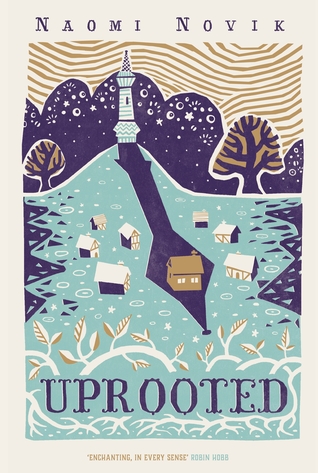 Book: Uprooted by Naomi Novak
Publisher: Del Rey, 2015
Genre: YA, Fantasy
Rating:

Source + Date Read: Own + May 2015
Recommend: For those that want a great kick-butt fantasy novel set in an old-European style world.
Book Pro's: It's an all-round ball of awesome.
Book Con's: Uhh… that ending is a bit neat and tidy.
Favourite Line: "If you don't want a man dead, don't bludgeon him over the head repeatedly"
Summary: Agnieszka loves her valley home, her quiet village, the forests and the bright shining river. But the corrupted wood stands on the border, full of malevolent power, and its shadow lies over her life.
Her people rely on the cold, ambitious wizard, known only as the Dragon, to keep the wood's powers at bay. But he demands a terrible price for his help: one young woman must be handed over to serve him for ten years, a fate almost as terrible as being lost to the wood.
The next choosing is fast approaching, and Agnieszka is afraid. She knows – everyone knows – that the Dragon will take Kasia: beautiful, graceful, brave Kasia – all the things Agnieszka isn't – and her dearest friend in the world. And there is no way to save her.
But no one can predict how or why the Dragon chooses a girl. And when he comes, it is not Kasia he will take with him.
From the author of the Temeraire series comes this hugely imaginative, engrossing and vivid fantasy novel, inspired by folk and fairy tales. It is perfect reading for fans of Robin Hobb and Trudi Canavan
More Information: GoodReads
So I wanted to read this the minute I read the synopsis and immediately entered The Daily Prophecy's giveaway. I never win giveaway, never, but to my surprise one day, I saw an email at work and it said that I won! Hazzah! There was much whooping at the office and a bit of a victory dance, which is a mix between a jump and a shuffle by the way, and waited anxiously till I got my hands on it. And oh, it did not disappoint!
First of all, let me talk about how amazing a job the publishers did with the cover- even the American version is nice, though I prefer this snazzy, illustrated British version. I think it embodies the story quite well and is engaging yet quite clean in its design. Overall, they definitely got an A+ for the cover.
Uprooted is an intriguing tale of budding magic and a woman finding her inner strength. What I like about this is though Agnieszka is the protagonist here, the supporting characters are richly infused with life and drama. I didn't find anyone to be a cookie-cutter stereotype but rather a fleshed out and three-dimensional being. The book is also great because it gives you someone to hate. I never hated the Wood and it's mystical and terrifying hold on the villagers. I rather, hated those pompous royals and city wizards, I must say that this book doesn't exactly portray urbanites in the most flattering manner. They come across as petty and just plain shallow.
What I found to be the strongest part of this book is its old-world, old-European cultural infusion. I don't know how others took this but it felt very, old-Russian to me and I haven't read many books with this style. It felt like the author took a history and culture and infused magic and intrigue to make it all the more fantastical and real. It's a fairy styled cautionary tale. Yes, there were some parts of this that lagged and I was not overly fond of the quick-ish romance (I have trouble judging pace in a book so I am open to hearing thoughts on this, was it quick? Was it not?), but it was neither forced or heavy.
Also how would you categorize this book, YA? NA? I've read books that had sex scenes as a teen but now that I'm older I don't know how appropriate I found it. But then again, I'm just not a fan of sex in books in general (unless you're Anne Rice, then have at it).
Have you read this? I'd love to hear your perspectives on it!