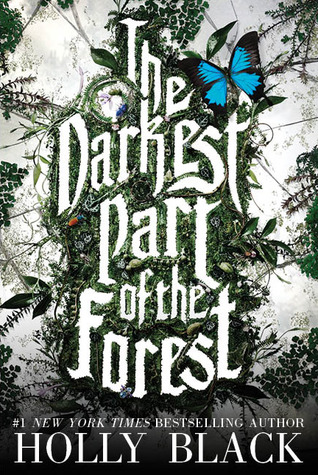 Book: The Darkest Part of the Forest by Holly Black
Publisher: Little, Brown Books for Young Readers, 2015
Genre: YA, Fantasy
Rating:

Source + Date Read: Library + June 2015
Recommend: Great fantasy read by a nitty-gritty writer.
Book Pro's: Strong female protagonist with a magical twist on reality.
Book Con's: A bit slow on the uptake, but amazing.
Favourite Line: "Once, there was a girl who vowed she would save everyone in the world, but forgot herself."
Summary: Children can have a cruel, absolute sense of justice. Children can kill a monster and feel quite proud of themselves. A girl can look at her brother and believe they're destined to be a knight and a bard who battle evil. She can believe she's found the thing she's been made for.
Hazel lives with her brother, Ben, in the strange town of Fairfold where humans and fae exist side by side. The faeries' seemingly harmless magic attracts tourists, but Hazel knows how dangerous they can be, and she knows how to stop them. Or she did, once.
At the center of it all, there is a glass coffin in the woods. It rests right on the ground and in it sleeps a boy with horns on his head and ears as pointed as knives. Hazel and Ben were both in love with him as children. The boy has slept there for generations, never waking.
Until one day, he does…
As the world turns upside down, Hazel tries to remember her years pretending to be a knight. But swept up in new love, shifting loyalties, and the fresh sting of betrayal, will it be enough?
More Information: GoodReads
I decided to go read this after I'd read a few great reviews about it. I've read other stuff by Holly Black, and I've always loved her work. Why? Because she's such a great writer. She's a good nitty, gritty writer. She's totally unafraid to get ugly and describe the not so good parts of being a teenager (which doesn't seem so long ago to me… I don't feel like an adult, at all).
The Darkest Part of The Forest is a diverse read featuring a strong female protagonist with her strong brother. I know I've said strong too many times in this one review but seriously, these twins kick butt in different ways. They've had a tough life and came through it with panache and elegance. Holly artfully infuses fantasy into a surreal world, where magic is accepted and absorbed into the mundane, everyday life.
What surprised me is how she managed to make it seem so amazing and terrifying, you can ask the faeries for a blessing but tourists go missing, devoured by banshees. It's that dual bit, the good and the bad infused that make this so strong. Faeries are lovely yet cruel- gorgeous and cold.
Another strength for this book is the inclusion of actual faerie perspectives. In a number of novels in this genre, the faeries are other-worldly creatures, demon angels sent to cause mayhem. But here, they're actual beings, with terrifyingly petty feuds, hopes and dreams. They love and grieve, and they sacrifice as well. I liked that, she somehow manage to humanize a myth in a great way (one of the only other books to do this well, in my opinion, is Seraphina by Rachel Hartman, in how she humanized dragons)
I'm also going to start linking to other reviews when I write one, as I'm one of those readers that are influenced by the reviews of others- so maybe this will help others make up their minds? Dunno, but read on!
Have you read this? I'd love to hear your perspectives on it!