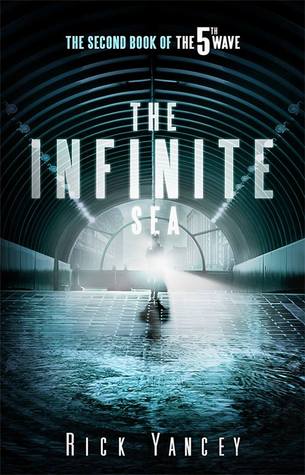 Book: The Infinite Sea (The Fifth Wave #2) by Rick Yancey
Publisher: Putnam Juvenile, 2014
Genre: YA, Science Fiction
Rating:

Source + Date Read: Library + April 2015
Recommend: For some kick-butt sci-fi.
Book Pro's: Expanded characters.
Book Con's: It's just a slow extended plot.
Favourite Line: "That's the cost. That's the price. Get ready, because when you crush the humanity out of humans, you're left with humans with no humanity."
Summary: How do you rid the Earth of seven billion humans? Rid the humans of their humanity. Surviving the first four waves was nearly impossible. Now Cassie Sullivan finds herself in a new world, a world in which the fundamental trust that binds us together is gone. As the 5th Wave rolls across the landscape, Cassie, Ben, and Ringer are forced to confront the Others' ultimate goal: the extermination of the human race. Cassie and her friends haven't seen the depths to which the Others will sink, nor have the Others seen the heights to which humanity will rise, in the ultimate battle between life and death, hope and despair, love and hate.
More Information: GoodReads
I've reviewed the first book in the series, so I feel like I need to do a review of the second one. I will just say this, straight up, I didn't enjoy this book. I read it in a few days but I mostly read it because I felt like I had to and wanted to actually understand what happened in the final installment.
Where do I start? I don't want this to be a whinging-fest, so I guess I'll start with something good. The Infinite Sea is an interesting second installment in this trilogy, where we see what happens to our favourite characters, Cassie and Zombie and so on. It certainly moves the plot along and we get to a point where I can see what the third book might look like.
If that made no sense above, it's mostly because I just BS'ed that, and really stretched what I thought of it. The book is just OK. I didn't like the shifting perspectives (I really, really don't like that literary device, it's my personal preference so I'd actually really like to hear from those that enjoyed that particular part of this book and what it meant for them!), it's great for exploring the psyche of previously unexplored characters, understanding them in better ways but I never found them interesting or well-rounded enough to be captivating.
It's written well, Yancey can surely write, but the world-building in this is unappealing to me. Again, this is all very personal and I always feel bad being ambivalent about any book but it was all just meh. Entertaining, yes, endearing? No.
I really, really want to hear from those that enjoyed- because I feel like I missed some serious stuff from it.