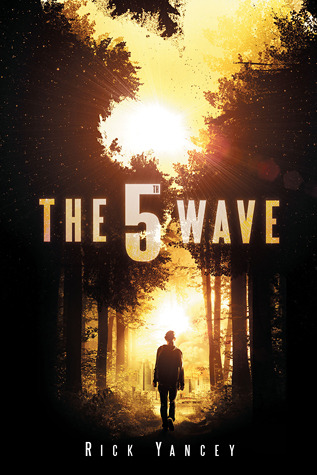 Book: The 5th Wave (The 5th Wave #1) by Rick Yancey
Publisher: G.P. Putnam's Sons Books, 2013
Genre: YA, Sci-fi
Rating:

Source + Date Read: Library + April 2015
Recommend: Great plot with amazing sci-fi element.
Book Pro's: Strong characters.
Book Con's: I didn't like the alternating perspectives style.
Favourite Line: "Some things you can never leave behind. They don't belong to the past. They belong to you."
Summary: After the 1st wave, only darkness remains. After the 2nd, only the lucky escape. And after the 3rd, only the unlucky survive. After the 4th wave, only one rule applies: trust no one. Now, it's the dawn of the 5th wave, and on a lonely stretch of highway, Cassie runs from Them. The beings who only look human, who roam the countryside killing anyone they see. Who have scattered Earth's last survivors. To stay alone is to stay alive, Cassie believes, until she meets Evan Walker.
Beguiling and mysterious, Evan Walker may be Cassie's only hope for rescuing her brother—or even saving herself. But Cassie must choose: between trust and despair, between defiance and surrender, between life and death. To give up or to get up.
More Information: GoodReads
I got this at the Finsbury Library in Islington and the minute I saw the cover, I nabbed it. I'd heard a lot of talk about this book when it came out and I was living in The Bahamas then so, I had no chance of getting my hands on it. But yet! 2 years later! I find my chance! I find it! It was staring at me from the Children's section. I didn't care about that fact and I'll get into that in another post.
OK back to the book. The 5th Wave had a rough start for me. I didn't particularly enjoy it and I got really sick of hearing about Ben Parish (and now that I've finished it, I still don't like to hear about darn Ben Parish) so I had to keep pushing myself to get into it, to get going. Finally, about a quarter into the book when Evan walks in, I get into it. Yancey writes pretty well and everything is described in such simple yet really rich detail. There is a bit where Cassie describes the stars, like that it's so quiet she can hear the stars scraping. I loved that description! I remember mouthing it verbally when I read that part, it seemed so rich and so sensory.
The book is also told from alternating perspectives, this is a device that I do not enjoy. I have never enjoyed it and I will probably also, never enjoy it. I hate flipping between perspectives and protagonists. In the 5th Wave it is done well but I will admit that I skipped some chapters, like skipped the entire thing because that character's perspective was not engaging for me. This is a personal choice and I'd like to hear from others as to what they thought of this literary device.
I greatly enjoyed this book's plot- I don't know how Yancey managed to twist everything around so artfully, but he did it well. Actually, if I had to sum up the plot for this novel, I'd say that it's smart. Everything about this is smart. I'm definitely invested in this series and need to find a way to get the second book! I can't wait till the third comes out as well.
All in all The 5th Wave is a great series with a rich plot and so many twists and turns that I was left enthralled and completely emotionally invested.