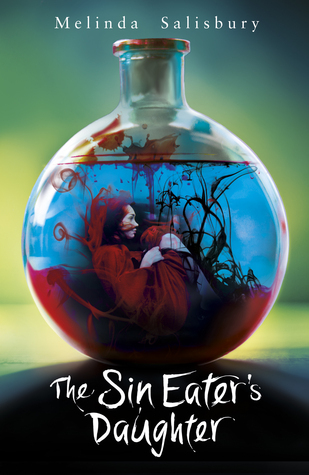 Book: The Sin Eater's Daughter (The Sin Eater's Daughter #1) by Melinda Salisbury
Publisher: Scholastic Press, 2015
Genre: YA/NA, Fantasy
Rating:

Source + Date Read: ARC + March 2015
Recommend: For those that like female led fantasy YA.
Book Pro's: Strong characters.
Book Con's: It's very meh feeling.
Favourite Line: "I am the perfect weapon, I can kill with a single touch."
Summary: I am the perfect weapon.
I kill with a single touch. Twylla is blessed. The Gods have chosen her to marry a prince, and rule the kingdom. But the favour of the Gods has it's price. A deadly poison infuses her skin. Those who anger the queen must die under Twylla's fatal touch.
Only Lief, an outspoken new guard, can see past Twylla's chilling role to the girls she truly is. Yet in a court as dangerous and the queen's, some truths should not be told..
More Information: GoodReads
I've got mixed feelings about The Sin Eater's Daughter. It's a very interesting book and the premise for the world here is fascinating, I'd like quite a bit more of that in the forthcoming books in this series.
The reason why these feelings are mixed because I'm not entirely sure I liked the book. I don't dislike it, or it would have a rating well below 2.5 hearts. It was massively entertaining and I think well written, but I couldn't connect to Twylla at all, and I think that this an obvious thing that colors my overall perception of the book. I read it in one night and when I shut it, I thought, well, that was interesting and moved onto another. It's rare that I find a book like this, I tend to be dramatic (we are not shocked, I'm sure) so books tend to be wow or ugh for me, not just a flat middle.
In general I do think that The Sin Eater's Daughter is a well written contribution to the YA or NA genre (I can't quite figure out which genre it actually is in, I do think it's a bit NA) with some serious world-building and imagination. I find the whole idea of sin-eating fascinating and I wish this bit was explained or explored more in the novel. Her mother is also a force to be reckoned with and I so want more of her in the series (I do think that she'll show up in it, I'm sure she will). Actually, Salisbury's ability to paint these amazing and terrifying characters is a strength in the book. THE QUEEN. Oh gosh, the Queen, she's… I want to read more just to figure out what happens.
What I will say is a strength and something that bumped up it's rating is that the author writes "adult" or sex scenes with maturity that I am so relieved for.
I'm sorry this review is so disjointed, I don't have any strong feelings about it but I do think it's good and I can see why it's so popular within YA circles.