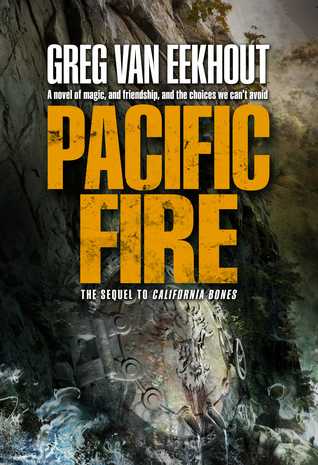 Book: Pacific Fire (Daniel Blackland #2) by Greg Van Eekhout
Publisher: Tor Books, 2015
Genre: Fantasy, Alternative world
Rating:

Source + Date Read: ARC + Finished March 2015
Recommend: For those that love some magic in an alternative world setting.
Book Pro's: Strong characters, strong writing, hands down Blackland is a brilliant writer.
Book Con's: Why are some scenes so contrived?! Ugh.
Favourite Line:"Did you want to be a professional baseball player?" "Naw. I got hit in the eye with a ball once and set it on fire."
Summary: I'm Sam. I'm just this guy. Okay, yeah, I'm a golem created from the substance of his own magic by the late Hierarch of Southern California. With a lot of work, I might be able to wield magic myself. I kind of doubt it, though. Not like Daniel Blackland can. Daniel's the reason the Hierarch's gone and I'm still alive. He's also the reason I've lived my entire life on the run. Ten years of never, ever going back to Los Angeles. Daniel's determined to protect me. To teach me. But it gets old. I've got nobody but Daniel. I'll never do anything normal. Like attend school. Or date a girl. Now it's worse. Because things are happening back in LA. Very bad people are building a Pacific firedrake, a kind of ultimate weapon of mass magical destruction.  Daniel seemed to think only he could stop them. Now Daniel's been hurt. I managed to get us to the place run by the Emmas. (Many of them. All named Emma. It's a long story.) They seem to be healing him, but he isn't going anyplace soon. Do I even have a reason for existing, if it isn't to prevent this firedrake from happening? I'm good at escaping from things. Now I've escaped from Daniel and the Emmas, and I'm on my way to LA. This may be the worst idea I ever had.
More Information: GoodReads
Further reading: Review for #1
Guyyyys. Ok, let me be orderly about this. Or try to anyway.
Overall, this books gets a pretty high rating for me. The first installment was great but had a bit of a bumpy drive for me, I found some parts thrilling and others a bit dull, a bit contrived. However, this second edition has sealed my love for this series. It has sealed it because it's an amazing book filled with such excellent magic and I can't wait, no, need, the third to come out soon. I've read the first and second via eReader but I'd love to buy physically copies soon (which we all know I only do if I love the book).
One of the things that struck me first is that Blackland is such a good writer. He really is! Especially those fight scenes or the parts where magic is called into being. The way that he writes those scenes are completely sensory, there are smells, sounds, tastes and sights. Everything is activated and it's interwoven in such a great way.
I feel like I need to reread his books because I miss that feeling ,that semblance of magic in the everyday, the potency of memories, feelings and powers just laying latent in our bones. Plus, I love the word bone, it's one of my favourites and the word "bone" in this world is utterly magical.
This second installment is also successful because it moves the overarching plot a long quite quickly. It introduces new characters, resurrects a few old ones and opens up the world. The world-building in this series is amazing, I don't know how anyone could come up with it all!Having a different narrator from the first, the world is shown in a different way. First we had Daniel's perspective, his life story and his pain. Now we have Sam, who is a bit more adolescent and a lot more powerful. It's dangerous this world they live in and power is pulled and consumed in brutal ways and Blackland doesn't shy from showing any of that. And I like that! This whole series isn't shy, it's honest and a bit harsh and mean but that's why it works, that's why it's amazing.
My biggest quip, is that some parts are too convenient. Sam in trouble? Well, let's place an insignificant character in the middle and just use him to move the plot along. I understand why Blackland does that but it's a bit contrived at times. Besides the Main Characters, Lesser Characters are used up to move plot, conversation or world-building on till they aren't needed and often disposed of in the end. Boo. I hope the third doesn't have that much or at all. I am quite intrigued to read the third in this series and will purchase it the minute it comes out.
Have you read this book or the first? What do you think of Magical California?