Book: Ash by Malinda Lo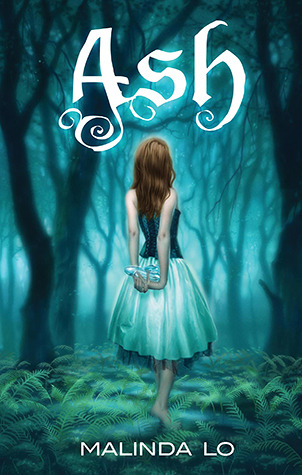 Publisher: Hodder Children's, 2010
Genre: Fantasy, YA, LGBTQ
Rating:

Source + Date Read: Library + September 2014
Recommend: For those than want a bit of diversity with their fantasy.
Book Pro's: Everything, it causes all the feels!
Book Con's: None. None, I tell you!
Quote Squeal: "Then they took the last step together, and when she kissed her, her mouth as warm as summer, the taste of her sweet and clear, she knew, at last, that she was home."
Oh, my goodness. Spoilers if you haven't read the book but I have to do it, I have to.
I didn't know about Malinda Lo's penchant for writing diverse books when I picked this up. I grabbed it because I liked the cover quite a bit and because my nickname is Ash, so why not? It started off as any other book, with some serious fairy tale leanings (namely, Cinderella) and actual faeries were brought in and then some romance. Halfway into the book, I sat up and said to myself, wait, what? Who is she falling in love with? I started to read a bit more furiously (and when I do so, it's a bit dangerous because I actually forget to breathe when I'm excited, so I got dizzy quote a few times) and then it hit me, the protagonist was falling in love with a woman. Cue in the fireworks, the squeals, the furious texts to my friends (who aren't all bookish, so some were like… Ash, it's 1AM, GO TO BED) and tears. I stayed up till 3AM reading this, and considering I had to be up at 7 for work, it shows how much I loved this book.
It's a well paced, well thought out book that incorporates a number of styles. It's diverse, and yet exceedingly normal. I didn't realise, as a gay woman, how much I needed to read 1) a fantasy book with LGBTQ characters and 2) how much I needed a world where 'gayness' wasn't odd, just another normal fact of life. Just like eating a sandwich for lunch is normal. I also like how she brings in so many fantasy elements, we have the fae, we have fairy tales, we have hints of random myths! Ash is sheer brilliance and I beg of you, dear readers, give it a shot.
Book: Huntress by Malinda Lo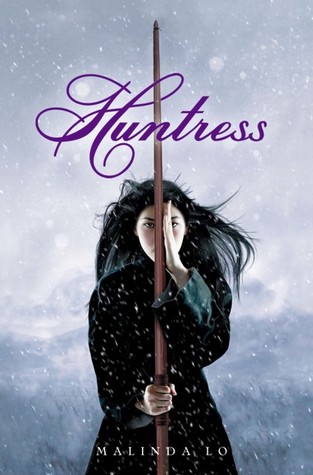 Publisher: Little Brown Books, 2011
Genre: Fantasy, YA, LGBTQ
Rating:

Source + Date Read: Library + September 2014
Recommend:
Book Pro's:
Book Con's:
Quote Squeal: "Love is not what you fear, is it? You fear the loss of it."
Huntress is a prequel to Ash, set in the same world where Huntress' are valued just as much as the male hunters. Well, this story is more of an origin one telling us how Huntress' came to be and why are they are so darn awesome. What's amazing about this tale is that Malinda Lo breaks, what I fell, are some serious unspoken rules in fiction, in that she mixes fantasy elements from many cultures. Her fae are, in my opinion, European in origin, in that you have the devious, treacherous, beautiful creatures that cause nothing but chaos and pain- but yet humanity needs them, because magic, yah. However, the world itself seems to be of East Asian influence. I think it's brilliant that she mixes everything together. It's well written and well paced and my heart ached for my protagonists, their pain and fear. I wanted to punch Taisin a few times but I truly did empathize with her struggle. All in all I think it's a great book that sets up the world for Ash nicely. I gave it 5 hearts because it's well written and immensely diverse. So go read it, shoo, go!
Book: The Bone Season (The Bone Season #1) by Samantha Shannon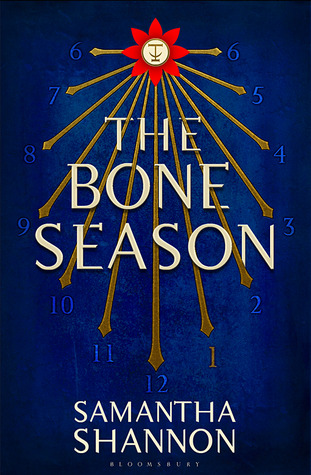 Publisher: Bloomsbury, 2013
Genre: Fantasy, YA, Dystopia
Rating:

Source + Date Read: Library + December 2013
Recommend: For those that want a solid British YA book with fantastical elements.
Book Pro's: Not all good-guys are good-guys and not all bad-guys are actual bad-guys.
Book Con's: Romance felt a bit contrived?
I read this while I was at Oxford so I could perfectly picture the world she was setting up, the Sheldonian, Magdalen College (pronounced Maud-el-in, you have no idea how long it took me to get this right) and the square. I loved it all. It's a truly fantastical book, splitting magic into hierarchy and style. Our protagonist is of a rare kind of magical person, so there is the fear and secrecy of keeping it hidden from those that seek to use her magic for their selfish purposes. Also, the weird alien creatures in this eat magic, like take a chomp out of your Aura and there are scary creatures that go more than boo in the night. I liked it, though, the romance made me scream a tad. I am quite excited to get my hands on The Mime Order, having just come out recently.
Book: The Archived (The Archived #1) by Victoria Schwab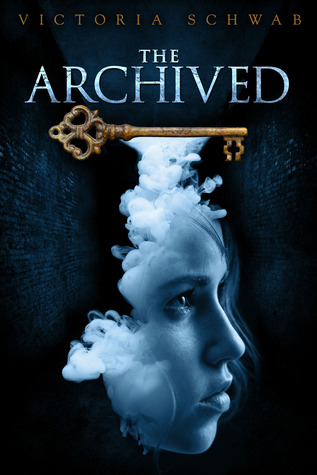 Publisher: Hyperion, 2013
Genre: Paranormal fantasy, YA
Rating:

Source + Date Read: Purchased + May 2013
Recommend: For those that want the ghosts of the past with their YA.
Book Pro's: Serious plot twist in the end, it's great.
Book Con's: Drags a bit.
I'm starting to think that though paranormal fantasy is fun, it might not be wholly my thing. I liked this book quite a bit and I took a risk on it, I bought it without having borrowed a copy from the library before so I really wanted to work out. I like the world that Schwab sets up, she's got a prodigious imagination (where the heck or how the heck did she come up with this stuff?!) with an amazing ability to convey loss with the future possibility of hope. It drags a bit and I did find myself wanting the end to happen a bit sooner, and I'm not sure I'd read the second book for this series, but I did enjoy this first one.
Book: Between Two Thorns (The Split Worlds #1) by Emma Newman

Publisher: Angry Robot, 2013
Genre: Urban fantasy, YA
Rating:

Source + Date Read: Promo + November 2013
Recommend: For fantasy buffs that like a reimagined world.
Book Pro's: Greatly imaginative, I loved this book.
Book Con's: The middle drags a little but makes up for it later.
Angry Robot, I'm still not over what you did to Strange Chemistry. Anyway, moving on! I received this book as part of a promotion and I remember devouring it, with my homework to the side. I haven't read the second or third installments yet but I most definitely will.
In general, Between Two Thorns looks at the possibility of split worlds, of two worlds coinciding and coexisting at the same time. Set in the UK, it's a brilliant take on the classic fae genre and the sheer cruelty they embody. It's an ambitious novel that sets the fae world within some sort of Victorian time suck, where the women don't like leaving it for fear that they'll age in the human world. The sheer vapidness of those women were enough to make me scream, I can see why our protagonist ran from it all. Kuddoes for the cover, it's amazing!
Have you read any of these books? What do you think of my ratings?