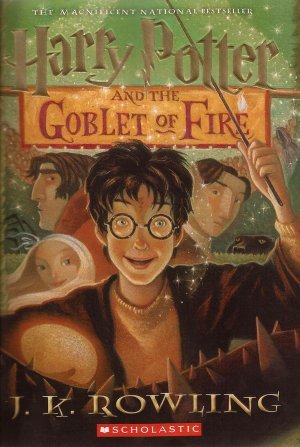 Book: Harry Potter and the Goblet of Fire by J. K. Rowling
Publisher: Scholastic, 2002
Genre: Fantasy, Alohomora!
Rating:

Source + Date Read: Own + Every Year since I received it in 2002 when I was 13 years old.
Recommend: Seriously, it's Harry Potter folks. Duh.
Book Pro's: They're all growing up *sobs*
Summary: The summer holidays are dragging on and Harry Potter can't wait for the start of the school year. It is his fourth year at Hogwarts School of Witchcraft and Wizardry and there are spells to be learnt and (unluckily) Potions and Divination lessons to be attended. But Harry can't know that the atmosphere is darkening around him, and his worst enemy is preparing a fate that it seems will be inescapable …With characteristic wit, fast-paced humour and marvellous emotional depth, J.K. Rowling has proved herself yet again to be a master story-teller.
More Information: GoodReads x Pottermore
Favourite Line: "If you want to know what a man's like, take a good look at how he treats his inferiors, not his equals."
It matters not what someone is born, but what they grow to be."
"Remember, if the time should come when you have to make a choice between what is right and what is easy, remember what happened to a boy who was good, and kind, and brave, because he strayed across the path of Lord Voldemort. Remember Cedric Diggory."
"Numbing the pain for a while will make it worse when you finally feel it."
"We are only as strong as we are united, as weak as we are divided."
"Don't talk to me."
"Why not?"
"Because I want to fix that in my memory for ever. Draco Malfoy, the amazing bouncing ferret…"
"It is my belief… that the truth is generally preferable to lies."
Obligatory Warning: This is going to be an incredibly biased review filled with unicorns, rainbows and magic. If you don't like Harry Potter or want any spoilers, please, I beg you, click onto another post. I'm not good at censoring myself. It will also be filled with memes.
I had caught up to the entire series by the time this book came out! We didn't have any sort of events going on and indeed, I'm not too sure that the book was even popular on my island when it came out. I do know that my Aunt was in the USA when it did come out and had preordered a copy for me (which I didn't know at the time and I was languishing in my room, despairing as to the spoilers that were making the way through the world and I, poor Claire, was stuck in a house with no new Goblet of Fire). When she came back and surprised me with it I gave that woman such an immense hug, which at the time I was averse to doing, that it surprised everyone. That being said, my entire feelings and emotions concerning the Goblet of Fire can be summed up with the meme below.
The Goblet of Fire is in my Top 3 Favourite Harry Potter books for sure, with first being the Half Blood Prince and Deathly Hallows second I believe. I love the first 3 for their innocence and magic building but after the 4th the books take on a whole new tone. The book is, initially, very sweet and wondrous: Rowling expands the magic universe by incorporating new cultures and magical countries. We see new creatures, the beautiful Veela and are pelted with coins by leprechauns. We meet the silky and cold students of Beauxbattons Academy (which I was told as a teen meant pretty butts, but I now assume that they were having a go at me) and the fiery students of Durmstrang (which I assume means strong something). I'm with Hermoine on this one, Goblet of Fire was a tale of international wizarding cooperation! I love Rowling's expansion of the universe and even with the personal strife and conflict, the overarching themes and plot, I always remember her descriptions best. So take my initial emotions as the meme below.
However, the book is also bluntly emotional as Harry, having grown up immensely since the previous book with Ron and Hermoine, is exposed to a new range of personal emotions. And boy, they are seriously complicated. I was 13 when I read this so I was a year off from Harry and already in the throes of crushes and teenage angst so I related quite well. I understood Ron's jealousy and Hermoine's exploration (and I think it's brilliant that she explore who she is, I did want Ron to STFU for most of the book and I am a huge Ron fan) and Harry's trepidation and fear. I imagine one is excited at the prospect of fame, glory and recognition and yet terrified and daunted at the same time.
I treat The Goblet of Fire as a transnational book, as in the first 3 books are filled with sleep over styled fun and drama.; there are feasts and mayhem, adventures, night time prowls and cramming. And there is more of this in the 4th but the characters evolve a great deal and the conflict and plot are moved significantly; Voldemort isn't a distant and past trouble, he is very much real, present and deadly. I think this is one makes The Goblet of Fire so darn significant, death becomes very real and the pain of the past come back to haunt everyone, regardless of how safe and loved they are. Plus, oh man I am starting to rant now and I want to save that for my 4th Thoughts Post, some parts are so darn not fair and I know that was Rowling's point, life isn't fair but *major spoilers* I really liked Cedric! Why did the good guy have to die?
All in all, I love this 4th edition and would highly recommend this book (duh). It's a book that takes and warns the readers that the fun and bright life of Hogwarts is dimming and moves the overall plot of the series leaps and bounds into the future. Conflict and pain are real and readers should expect to read more of it in book 5, 6 and 7.
I'm writing this review as part of my Harry Potter ReRead initiative started by The Book Journey so everyone can expect a number of posts coming up!
Read other Harry Potter posts.
Did you like the Goblet of Fire?