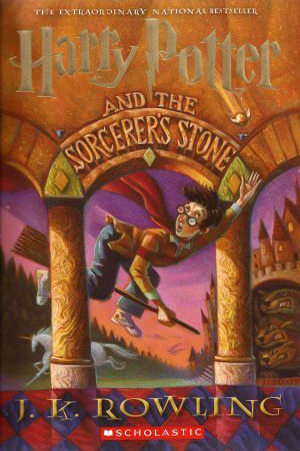 Book: Harry Potter and the Philosopher's Stone by J. K. Rowling
Publisher: Scholastic, 1997
Genre: Fantasy, AMAZING
Rating:

Source + Date Read: Own + Every Year since I received it in 2000 when I was 10 years old.
Recommend: Seriously, it's Harry Potter folks. Duh.
Book Pro's: EVERYTHING.
Book Con's: I blindly love this book. None.
Summary: Harry Potter has never played a sport while flying on a broomstick. He's never worn a Cloak of Invisibility, befriended a giant, or helped hatch a dragon. All Harry knows is a miserable life with the Dursleys, his horrible aunt and uncle, and their abominable son, Dudley. Harry's room is a tiny cupboard under the stairs, and he hasn't had a birthday party in ten years. But all that is about to change when a mysterious letter arrives by owl messenger: a letter with an invitation to a wonderful place he never dreamed existed. There he finds not only friends, aerial sports, and magic around every corner, but a great destiny that's been waiting for him… if Harry can survive the encounter.
More Information: GoodReads x Pottermore

Favourite Line: "It does not do to dwell on dreams and forget to live." Dumbledore
"You haven't got a letter on yours," George observed. "I suppose she thinks you don't forget your name. But we're not stupid-we know we're called Gred and Forge."
"So light a fire!" Harry choked. "Yes…of course…but there's no wood!" …
"HAVE YOU GONE MAD!" Ron bellowed. "ARE YOU A WITCH OR NOT!"
"I hope you're pleased with yourselves. We could all have been killed – or worse, expelled. Now if you don't mind, I'm going to bed."
Warning: This is going to be an incredibly biased review filled with unicorns, rainbows and magic. If you don't like Harry Potter or want any spoilers, please, I beg you, click onto another post. I'm not good at censoring myself.
OK, so I received the Philosopher's Stone at the age of 10 (or was I 11? I believe 10, it was 2000, I remember that distinctly) from my father when he was visiting us in Barbados. He bought it because he heard from his coworkers that "it was really good" and that it could keep me company. I've discussed this in a previous post, and I can say that as a 10 year old that didn't like to read, this book started me down the rabbit hole that was full on geekery. I mean, full, on, geekery. I also warn you, though I can't stand meme related posts, I think since I am a huge, huge nerd for all things Potter, my including it here is totally applicable, allowed and acceptable.
I intend to publish my thoughts on this book, which will be more spoilery, later on this week. To be succinct, the Philosopher's Stone is a well written tale filled with imagination and magic. Indeed, this is a strength I've noticed throughout the entire series and one that has made me enamoured with the entire Harry Potter universe. The world building is amazing, I don't know how she came up with Chocolate Frogs, Pumpkin Pasties, Hogwarts or even quidditch! The world building is absolutely amazing. Plus those names! Love how she does names for her characters.
Rowling also writes with humor, so that the book is enjoyable and light without feeling too childish. Even though I was a child and in the process of rereading the series, it never felt like a children's book to me which speaks to its success across age groups and genre lovers. The plot is also consistent though with time, I admit, I've seen some gaps in it here and there. I've also seen some serious foreshadowing, but that's because I know what happens in the rest of the book and series. Plus the ending, though hilarious isn't entirely plausible, but I love the book so, why not?
All in all, I'm in love with this series and would highly recommend this book. I'm writing this review as part of my Harry Potter ReRead initiative started by The Book Journey so everyone can expect a number of posts coming up!
Read other Harry Potter posts.
Did you like the Philosopher's Stone?