According to GoodReads, I am 5 books behind schedule. According to GoodReads, I am pretty much a reading failure. But what I don't include in my GR is all of the articles, books and stuff I have to read on a daily basis for grad school. If I included those, I'd have busted through my 50 book goal by the end of January.
On average, I have to read 2 to 3 books and around 5 to 8 articles a week for tutorials, lectures, essays and graded assignments. I have a big assignment coming out soon so I recently went on a borrowing spree and lugged 15 books home. These aren't tiny books by the way, they're like those crappy huge textbooks you'd get in 101 classes for undergrad.
So I've decided to share a selection of the books I love with you. It isn't highly relevant for readers, as how many of you all study/love/like anthropology, visual culture, museum studies and material culture studies? Oh well, this is my daily life now, and I want to share it (because I can! Pah!)
4 Museum Studies Books I Love: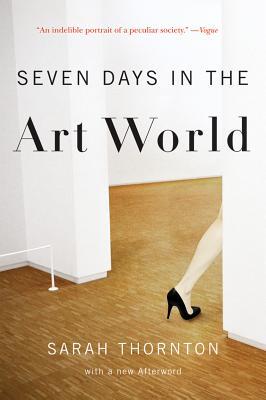 Seven Days in the Art World
by

Sarah Thornton

Oh such fun! This isn't so much academic as a great nonfiction world of the scintillating world of art galleries and contemporary art. I work in a contemporary art museum and I had to laugh when I read this, so many of the situations she portrays in the book I've experienced in real life! A great, fun read.

Summary: In a series of beautifully paced narratives, Sarah Thornton investigates the drama of a Christie's auction, the workings in Takashi Murakami's studios, the elite at the Basel Art Fair, the eccentricities of Artforum magazine, the competition behind an important art prize, life in a notorious art-school seminar, and the wonderland of the Venice Biennale. She reveals the new dynamics of creativity, taste, status, money, and the search for meaning in life. A judicious and juicy account of the institutions that have the power to shape art history, based on hundreds of interviews with high-profile players, Thornton's entertaining ethnography will change the way you look at contemporary culture.
Reinventing Africa: Museums, Material Culture and Popular Imagination in Late Victorian and Edwardian England
by

Annie E. Coombes

I have a love-hate relationship with this book. It's kinda hard to read? But yet terribly interesting? And totally relevant to postcolonial institutions in the present day? Yet, very, very hard to read. I hated to read this book but knew that every time I did, I came out of it with better essays, quotes and resources. I didn't enjoy this tons despite its sheer brilliance. However, it is so brilliant I'd recommend it anyway.

Summary: Between 1890 and 1918, British colonial expansion in Africa led to the removal of many valuable African artifacts that were subsequently brought to Britain and displayed. Annie Coombes argues that this activity had profound repercussions for the construction of a national identity within Britain itself – the effects of which are still with us today. Coombes argues that although endlessly reiterated racial stereotypes were disseminated through popular images of all things 'African', this was no simple reproduction of imperial ideology. There were a number of different and sometimes conflicting representations of 'Africa' and of what it was to be African – representations that varied according to political, institutional and disciplinary pressures. In particular, the professionalisation of anthropology over this period played a crucial role in the popularisation of contradictory ideas about African culture to a mass public. Pioneering in its interdisciplinary research, this book offers valuable insights for art and design historians, historians of culture, imperialism and anthropology, social historians, anthropologists and museologists.
Museum Frictions: Public Cultures/Global Transformations
by

Ivan Karp , Ivan Karp, Lynn Szwaja , Tomas Ybarra-Frausto

I first read this during an internship at the Smithsonian (that place is awesomeness) and oh, oh, oh, it rocked my world. The articles in this edition range from the artistic to the ethnographic and as someone with diverse interests, it's an excellent companion to any study. I even recommend a few of my archaeology friends read it.

Summary: Museum Frictions is the third volume in a bestselling series on culture, society, and museums. The first two volumes in the series, Exhibiting Cultures and Museums and Communities, have become defining books for those interested in the politics of museum display and heritage sites. Another classic in the making, Museum Frictions is a lavishly illustrated examination of the significant and varied effects of the increasingly globalized world on contemporary museum, heritage, and exhibition practice. The contributors—scholars, artists, and curators—present case studies drawn from Africa, Australia, North and South America, Europe, and Asia. Together they offer a multifaceted analysis of the complex roles that national and community museums, museums of art and history, monuments, heritage sites, and theme parks play in creating public cultures.
A Companion to Museum Studies
by

Sharon Macdonald

This book saved my butt on numerous occasions at school. If you have any sort of museum studies related interest, it's got great information on all facets of the field (from architecture to the salience of site choice). Further, what I loved was that it pointed you into other directions and other authors. Sharon Macdonald is a rockstar in museum studies so if you are taking a course, you need this book.

Summary: A Companion to Museum Studies captures the multidisciplinary approach to the study of the development, roles, and significance of museums in contemporary society.Collects first-rate original essays by leading figures from a range of disciplines and theoretical stances, including anthropology, art history, history, literature, sociology, cultural studies, and museum studiesExamines the complexity of the museum from cultural, political, curatorial, historical and representational perspectivesCovers traditional subjects, such as space, display, buildings, objects and collecting, and more contemporary challenges such as visiting, commerce, community and experimental exhibition forms.