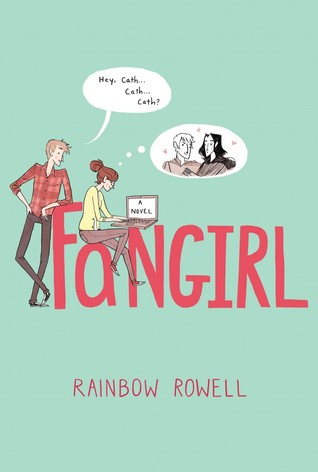 Book: Fangirl by Rainbow Rowell
Publisher: St. Martin's Press 2013
Genre: YA, Romance
Rating:

Source + Date Read: Nicole's copy + Finished August 2014
Recommend: For all you introverts at heart or someone who roots for a geeky underdog!
Book Pro's: AMAZING. ALL AMAZING.
Book Con's: Things wrap up a bit too neatly for our protagonist? I envy her coping mechanisms?
Summary: Cath is a Simon Snow fan. Okay, the whole world is a Simon Snow fan… But for Cath, being a fan is her life—and she's really good at it. She and her twin sister, Wren, ensconced themselves in the Simon Snow series when they were just kids; it's what got them through their mother leaving. Reading. Rereading. Hanging out in Simon Snow forums, writing Simon Snow fan fiction, dressing up like the characters for every movie premiere. Cath's sister has mostly grown away from fandom, but Cath can't let go. She doesn't want to.

More Information: GoodReads
The first time I even heard about this was at YALC! There were stupid long lines for Rainbow Rowell and everyone, I mean, everyone, seemed to be reading one of her books. I was chilling with my homies in the book section (shout out to Hannah, Rinn, Tatum, & Amber) and there were fields of mint green and peachy red everywhere. Everyone was reading Fangirl. Or rereading Fangirl. Something, but it had to do with Fangirl! As such,in my usual state, I immediately became overly suspicious of it and unwilling to read it. However, my good friend Nicole sought to rectify that and graciously mailed me a copy. Whilst writing my thesis, I decided that I'd read a few chapters on a break, and man, do I regret that! I got no work done for the rest of the day. I just devoured the book! Devoured.
On to my official review. Fangirl is an amazingly well written story that tells teh coming of age of a girl a lot like many of us on the blogosphere. The protagonist is a bit on the extreme end of social anxiety but yet she her nuanced portrayal leaves readers relating to some aspect of her personality. She has a tough life, but she manages to hand it without too many meltdowns. She is in a sense, broken but somehow able to hold the glued pieces together. When things start to crack, obviously there is tension between the protagonist and the supporting characters but each manages to find some sort of solace or glue to keep them all together. I cried when reading this because I could relate to the protagonist and her brokenness, but unlike her, I hadn't yet figured out how to stop the glue from cracking more.
Furthermore (can you tell that I'm still in thesis writing mode, where does this word come from!? Furthermore, pah), I do think that Rowell writes about life well: her portrayal of mental illness is fascinating. Mental illness runs in my family and to see it sort of done in a matter of fact way, without the hijinks or crazy drama was nice. In all, the novel is well written and decently paced. I do have a confession though: I skipped all the Simon Snow POV chapters… I couldn't have been bothered because I was so desperate to find out what our protagonist would do next. In rereading this book, I will read the Simon Snow POV. I liked this book so much, I purchased my copy and I am notorious for reading first (through a library or a friend) and then purchasing.
Oh and I LOVE the cover.