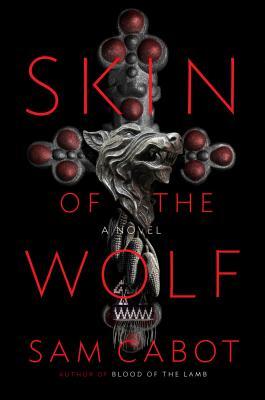 Book: Skin of the Wolf by Sam Cabot
Publisher: Blue Rider Press, 2014
Genre: Historical thriller, mystery
Rating:

Source + Date Read: Netgalley + Finished August 2014
Recommend: Contemporary thriller set in New York. It's a bit paranormal, a bit fantastical. If you like urban mysteries with class, this is it.
Book Pro's: Well-paced.
Book Con's: Some characters, made me want to reach into the book and slap them  around a bit.
Summary: Father Thomas Kelly, art historian Livia Pietro, and scholar Spencer George shared shocking, life-changing events in Blood of the Lamb; in that thriller, Father Kelly learned of the existence of the Noantri—a community of vampires—and that Livia and Spencer were among them. Now, a year later, all three are together again in New York City where Livia is attending a conference on Native American art. But when Spencer is attacked in Central Park by a wolf, the trio are thrown deep into a world where money, Native American lore, and the doctrines of the Catholic Church collide, revealing an alarming secret: the wolf is a Shapeshifter. He is searching for a sacred Iroquois mask with power that, badly wielded, could destroy millions of lives. But as they enter the search for the mask, the three narrowly escape becoming the Shapeshifter's prey. Will they be able to prevent catastrophe from rising with the next full moon?
More Information: GoodReads
I quite enjoyed this new contribution to the Sam Cabot library. I've reviewed one of their previous books, Blood of the Lamb and loved it so I was quite happy to get a copy of this one. I started the book on August 2nd, read it for 4 hours straight and then finished it on the 3rd after a few more hours. When I read books in clumps like that, it's highly indicative of the fact that I greatly enjoyed it.
The book is well written, well placed and shows a depth of research that one might not find in contemporary novels based on Native American tribal lore and culture. The book is an urban-ish thriller with our favourite characters from Blood of the Lamb becoming quite entangled in new dramas. I loved the dialogue between new and old characters. The mystery is set around this enigmatic mask, so you've got a bit of art-world banter (I've been to the actual Sotheby's they describe in the book and the crassness of some of the characters in the book is spot on to the people I met there). It's the little details that get the book right (like using gloves to touch art- you have no idea how annoyed I get when I read a book set in a museum or gallery and people just touch the art. YOU NEVER DO THAT IN REAL LIFE. Gloves people. Gloves). It's also deeply immersed in native lore, so not to spoil anything but the book can be… joked about in a Twilight sense. Not that the book is of Twilight quality, it's brilliant actually. The reason I gave it 4 hearts instead of 5 is that the jovial/joking nature of the cops was a bit contrived at times (do policemen actually talk like that? I'm scared if they do) but other than that the dialogue was smooth and engaging.
All in all I highly recommend this book because it's got engaging plot and dialogue, with well-rounded characters (no one comes off as a pastiche as I find minorities sometimes do in thrillers). It's fun as heck and makes for an excellent beach time read!