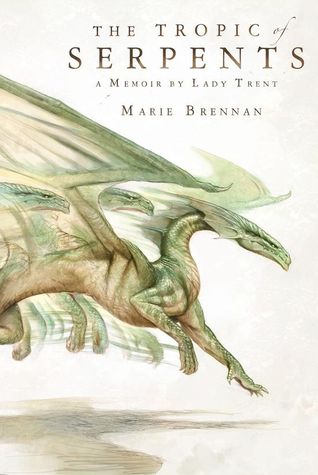 Book: The Tropic of Serpents by Marie Brennan
Publisher: Tor Books, 2014
Genre: Fantasy, Kick-Ass-Women
Rating:

Source + Date Read: Library + Finished June 2014
Recommend: Fantasy and dragon lovers, harken forth!
Book Pro's: A good second installment for the series.
Book Con's: It so needed more dragons.
Favourite Line: "Science is not separate from politics. As much as I would like it to be a pure thing, existing only in some intellectual realm unsullied by human struggle, it will always be entangled with the world we live in."
Summary: Three years after her fateful journeys through the forbidding mountains of Vystrana, Mrs. Camherst defies family and convention to embark on an expedition to the war-torn continent of Eriga, home of such exotic draconian species as the grass-dwelling snakes of the savannah, arboreal tree snakes, and, most elusive of all, the legendary swamp-wyrms of the tropics.
The expedition is not an easy one. Accompanied by both an old associate and a runaway heiress, Isabella must brave oppressive heat, merciless fevers, palace intrigues, gossip, and other hazards in order to satisfy her boundless fascination with all things draconian, even if it means venturing deep into the forbidden jungle known as the Green Hell . . . where her courage, resourcefulness, and scientific curiosity will be tested as never before.
More Information: GoodReads
Further reading: A Natural History of Dragons (A Memoir by Lady Trent #1) Review
I remember when this first came out, it was before I had read the first book in the series and was like, what's the big deal? Why is everyone so excited about this book? It was everywhere, everywhere I tell you! When I realised that the local library finally had this book, I sprinted the many miles it took to get there before someone could snatch it up. It was such a funny moment, leaving the house half-dressed because I was on the quest for a book (it scared my housemates who have never seen me quickly move for anything). That's how excited I was to get my hands on it.
That being said, I've been hooked on the series since though this second installment was a tad bit more disappointing than the first in the series. The main fault in the book is that it focuses too heavily (in my opinion) on the politics and drama of the time (which is necessary for great world building, so don't think I'm hating) but at the expense of interest. About 50% into the book it really picks up but we have to wait for some time before we get into the dragon-drama. In fact, most of the drama in the book is between people, and I'll be frank, I read a dragon book for dragon-drama not people-drama. That's why I loved the first book so much! Dragons! Intrigue! Lady scientists! I couldn't give the story a 4 because it certainly lagged in certain places, but it was much more deserving than a 3, as the plot and characterizations were sheer brilliance.
Brennan is a great writer and the best parts of this book are moments of dialogue nad tension between the 3 main characters. Each is quirky and tortured in their own way, and how they've come to deal with each other despite gender, class and personal differences is brilliant. I am fond of Nathalie (I won't spoil the book, but she's a great character) who is another example of a heady, strong female unwilling to yield to societal pressures. Isabella is, as usual, a sheer delight. Any independent woman would see a bit of themselves in Isabella or Nathalie.
Illustrations:
Oh, another gripe: I did not enjoy the illustrations in this book as much as I did in the first (different artist?). In the first they were very illustrative whereas they seemed to lack a particular point in the Tropic of Serpents. Plus, Brennan details a particular dragon in the Green Hell and we're never given an illustration of it. Ummm, why? You have 2 to 3 broad types of dragons depicted in this book (yay!) but illustrations of 1? No fair. However, I am so, so, very excited to read the third book you all have no idea! I've included a small shot of the cover for the third book here!
E-Book Vs Physical:
I'd recommend getting the physical version of this book as the front cover wraps around into the back exposing more great portions of the front cover!
All in all, I'd highly recommend this book. It's great, the world building is fantastic and the drama very real. Dragons are presented as very real creatures, filled with intrigue and danger.