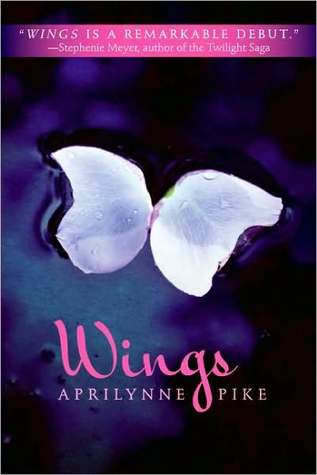 Series: Wings by Aprilynne Pike
Publisher: HarperTeen, 2009-2012
Genre: YA, Fantasy, Faerie
Rating:

Source + Date Read: Library + Finished October 2012
Recommend: For those who like a new, imaginative take on faerie styled fantasy.
Series Pro's: Great world building, decently or somewhat likeable characters.
Series Con's: Talk about teenage-angst fest!
Summary: Laurel was mesmerized, staring at the pale things with wide eyes. They were terrifyingly beautiful—too beautiful for words.
Laurel turned to the mirror again, her eyes on the hovering petals that floated beside her head. They looked almost like wings.
More Information: GoodReads
Wings
Let it be known now: I am a huge fairie fan. I've read a number of fae oriented books, as this is such a large genre. So when a book comes out and takes a different look at faeries and their pretty and innocent visage, I get hooked. Pike takes us to a world where faerie's are quite real and are quite angry. They fight, they have a horrible caste system, and they have wings! Well the women do. Like a human body, their wings (or blooms, they're flowers actually and can't fly with them) bloom once a year and you get the picture.
This isn't Tinkerbell's book or story. There is sweetness, as Pike weaves Laurel's (the protagonist) coming of age story with the knowledge of her burgeoning faerie-ness. There is also the huge love triangle taking place, something that I'm not too fond of. Actually the sappy love bit downgraded this book to a 3 for me. Other than that, characters are fleshed out and Pike is a mastermind at her world-building, Laurel's world feels like something I actually live in. But this is a huge must-read!
Spells
Pike's second installment fleshed out this notion of a faerie world more. Laurel is required to continue her studies as an Autumn faerie (her flowers blooms in the autumn). Here she comes to understand the caste system a bit better, much to her chagrin. There are Summers, Springs, Autumns and Winters. Each type of faerie has a magical ability which is useful for the continuation of the realm, this also influences the number of faeries born in this time. Imagine the fae world as a triangle. Springs are on the bottom, they are the most plentiful and constitute a large number of the labor force. Summers, with their ability to generate images are the artistic fae. They're third in the totem pole, they make pretty stuff, do pretty things and so on. Then there are Autumns and they're the genius' of the bunch. They study, a lot and do all the chemistry stuff. Yay for them! Then there are Winters, and it seems that there is only about 1 born every generation, which makes them a powerful and very small caste. They control the door to Avalon, so in a way, they control who can and cannot leave the fae world. Spooky.
What I enjoyed about this book was the political nature of the fae world, which again draws allusions to the real world. The lower castes are expected to be subservient to the higher castes, which seems bad (and it is, it really is, there is death and pain involved) but they get small joys: they have families, they have children they can raise. Other castes aren't as fortunate.
Definitely worth the 4 hearts!
Illusions 
We're introduced to new characters here and the pace quickens considerably. There is action, violence and a number of cliff hangers. Lets just say that I gripped my Kindle a bit too tightly whilst reading this installment.
I give this 4 hearts, because despite its brilliant pace and tense tone, I was left feeling somewhat lackluster. The love triangle is drawn out in an agonizing way, and I don't mean this in a who-will-she-pick way, but will-she-just-pick-already kind of exasperated way.
I feel that the title, Illusions, is a justified name. Here, enemies are revealed and the illusions and pretenses that you see in the first two books are dropped. It's like Pike stops trying to be nice and becomes herself. I appreciate this because it felt like the author was coming into her own and had some sort of epiphany. Well worth the read!
Destined
It's the big boom! The end and I loved every moment of it. I was so sad to see the series end, but I had to finish this. This book was one that I sat down for 5 hours straight, I didn't move, eat or drink or even take a rest. I loved it that much.
As the climax a lot of details and truths are revealed. We have the last battle which allowed each character to come into their own. The love triangle finally ended as well! What I appreciated the most was that Pike allowed for the characters to mature. Laurel made her choice and the other characters had to deal with this as best they could. The man she left behind had trouble moving on, but even in the end he found some sort of solace. It was sad, very sad but as he said, how do you move on with regular life when something fantastic and crazy as the fae world happen to you?
I sort of felt like that when the series was done. I was infused with energy, I had so many ideas in my head about destiny, morality, autonomy and identity that I wasn't able to move onto another book for a week or so. I am including a meme below that aptly explains how I feel. I don't like including memes in blog posts (I actually really, really don't like it but I will make an exception just this once).
I thought this was a great series. It isn't world shattering or life changing but it is entertaining and sometimes, that is all we need in a book. People have compared the series to Twilight and I can see why and yet, I don't understand why at all.