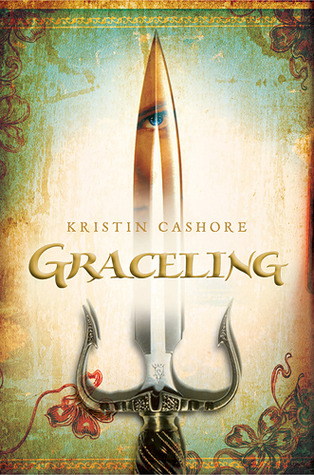 Series: Graceling Realm Series by Kristin Cashore
Publisher: Harcourt, 2008-2012
Genre: YA, Fantasy
Rating:

Source + Date Read: Borrowed from family, completed the series in 2011
Recommend: This is a great fantasy series with multiple strong female protagonists!
Series Pro's: Great world building, and the series is excellent because we each book takes place in a different world so you get to see some unique things going on.
Series Con's: The last book is actually very disappointing. Sadness.
Summary: Katsa has been able to kill a man with her bare hands since she was eight – she's a Graceling, one of the rare people in her land born with an extreme skill. As niece of the king, she should be able to live a life of privilege, but Graced as she is with killing, she is forced to work as the king's thug.
More Information: GoodReads
Graceling 
This book was brilliant magic. I gave it 4 hearts, and not 5 because there are some tedious bits that drove me a bit bonkers. Katsa, the protagonist, has suffered a hard life. She's a Grace, an individual born with special abilities (as shown by their 2 different colored eyes). You'd think this would be a good thing right? Well no, it isn't. First of all, people don't like them. They hate on their eyes and special abilities (not all abilities are good by the way, I'd let that be known now). Second of all, Grace's are required to be wards of their local Lord or leader and are required to do the bidding of said person. So, you'd think again: Great! They've got a job! They're set for life!
Well no, because as we see in Graceling, poor Grace's such as Katsa are required to do a bit of nasty work for the King: i.e. do his killing, threatening, crushing and all around thug work. This is sad because Katsa is a nice person, though extremely insecure and flawed.
We find out later in the book what her Grace is, everyone thinks its killing due to her super human strength, but we find out later that it isn't and it makes so much sense. Why would you give such an awful grace to such a strong woman?
The only part of the book that irked me is when Katsa met Po, the future love of her life. Instead of trying to sort out her feelings, Katsa tortures us with a binary dialogue. Should she be with him? Yes! No! YES! NO! Eventually you have to roll your eyes and say get on with it already. And boy, does she get on with it.
Graceling is beautifully paced and Cashore does an amazing job of building a world so realistic and beautiful and flawed, that as readers, you're left disappointed when it is done. No one likes returning to reality and Cashore is a master story teller in her craft.
Fire 
This is why I really love Cashore. For Graceling #2, she doesn't take us on another journey with Katsa and Po, but rather she invents a whole new world on the other side of the Graceling mountains and we meet Fire, another tortured but incredibly strong female protagonist.
Let me get my pet peeve out of the way first. Why is her name Fire? She has flaming red hair, she can control minds, she is utterly bewitching. So Cashore calls her Fire? Well. WHY? Sigh.
I found the world building in Fire to be better than in Graceling because the focus isn't so much on people with a genetic quirk, but rather a whole separate species of being that draws lushness to it. They're dangerous creatures and what happens when one of these Monsters is by chance a human? This dilemma rounded out Fire quite well, she's tortured yes but in a sane and intellectual way. She doesn't suffer from an existential crisis, but rather a moral one and I found this refreshing as compared to Katsa's drama from the book before.
This one is a bit better than Graceling and it deserves every accolade that it receives.
Bitterblue 
This book brought down the entire series' rating for me. Graceling Realm had two 4's and then this 1 two had to bring the whole thing down. Sigh. We met Bitterblue in the first book (I read this book last year so my memory is a bit foggy) book and she appears again as the protagonist in this third installment.
I found Bitterblue's character to be young, immature and a bit annoying. Katsa also morphs into a sex-crazed young thing here as well and I was a bit disappointed in that.
I sympathize with Bitterblue's dilemma, however. She is left to rule a kingdom that is bowed low under its brokenness. Under her father's rule a large number of people were kidnapped, tortured and eventually killed. The true horrors are revealed, when you realise that her father, Leck used his Grace power to force a number of other people to carry out these atrocities. So the kingdom is bowed under death but also a communal guilt.
I thought this part was brilliant because it clearly mirrors a number of contemporary conflicts. Particularly a few in Africa (does Apartheid come to mind for anyone? Or the Rwandan genocide?). Readers are left to ponder, who is to blame? Who are the real victims here?
Cashore's political, symbolic, neat and brilliant way of writing gave this story its 2 hearts. The slow pace, frightfully annoying characters and quick ending brought it down a bit. I enjoyed it but expected much more from Bitterblue as the last installment of the series.
I was quite sad when the series ended but relieved at the same time. I found Bitterblue to be too much of a disappointment to want to read more.